S@T Gateway
Logos Solvo's S@T Gateway provides access for a SIM based S@T browser to application content hosted on an application server. This enables the Mobile Network Operator to move functionality from the SIM to an application server, thereby saving valuable resources on the SIM. Applications are split, and only the most static components are stored on the SIM, with the dynamic elements hosted on the server.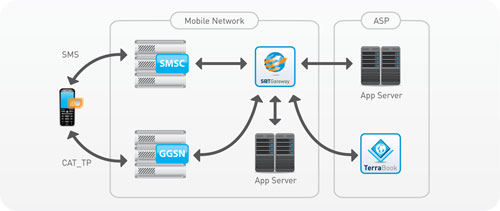 Overview

Communication from the SIM based S@T browser is session based, making use of BIP (if supported by the handset and SIM) or SMS for the transmission of data in the browsing session. The S@T Gateway decodes requests from the browser, and relays these requests to the application server. Resulting responses from the application server are encoded and send to the SIM browser.
The S@T Gateway can initiate a browsing session to any supporting S@T SIM, using the extensive push functionality accessible trough the administration interface. The subscriber has the option to accept or reject the incoming browsing session.
Key Features
Support for any S@T SIM card through a Vendor Qualification Programme.


Management of S@T applications on the SIM.


Fully compliant to the latest SIMalliance S@T specifications.


Support for Bearer Independent Protocol (BIP/CAT_TP).


Management of external Application Service Providers and content providers.


Push gateway with campaign manager for initiating S@T push sessions.


S@T Software Development Kit with fully featured emulator.


Web based administration interface.


API for integration with external systems for provisioning and billing.
Benefits to Network Operators
Unlocks Resources on the SIM

by moving application functionality to the application server.



Simplified Application Deployment and Management.

Application updates take place on the server, and are instantly accessible by all subscribers.



Shorter Time to Market for New Services.

Applications installed on the server are available immediately without a SIM swap or extensive SIM update campaigns.



Applications From Various Vendors.

S@T applications are accessible to all S@T enabled SIM cards, independent of the supplier of the SIM card.



Simplified Application Development.

Any HTML developer can create S@T applications with minimal training.



Benefits to Subscribers

Access to Dynamic Application Functionality

that changes every time the application is activated.
Easier Access to New Services.

The subscriber can get access to a new service without going to a customer care center and without replacing their SIM.



Better Customer Service

as the MNO has an overall view of the services deployed to the subscriber's SIM.