DynaSTK Server
Ensuring that subscribers always have convenient access to the latest content from the Mobile Network Operator is critical to drive the usage of the MNO's content and services.
Logos Solvo's DynaSTK Server enables Mobile Network Operators to deploy and manage SIM Toolkit menus on their subscribers' SIM cards Over-The-Air. The product presents an easy to use graphical user interface for the management of menus and basic SIM application functionality.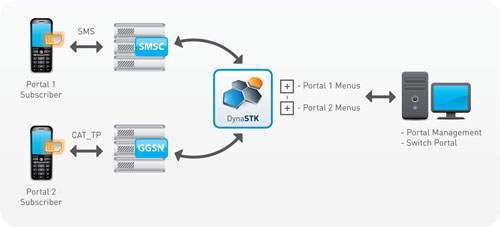 The DynaSTK Server enables the MNO to get a detailed view of the menus on subscribers' SIMs, with the ability to update the menus with minimal effort. Menu items can be added, deleted or edited on any level of the menu tree, and SIM based application code can be associated with any menu item. Changes in the menus are updated to SIM cards over-the-air using SMS or BIP.
Key Features
GUI to customize and manage the SIM menu updates.


Support for BIP/CAT_TP for updating large menu structures and applications.


Efficient and fast menu and application updates.


Update campaign scheduling.


Use of portals to pre-configure menu structures that subscribers have access to.


Subscribers can add menus to, or delete menus from their SIM using the DynaSTK SIM applet.


Subscribers can be switched between service portals, changing the menus on their SIM to reflect the new portal.


The MNO determines which menus the subscriber can remove.


The MNO receives SIM menu usage statistics for each menu item on the SIM.
Benefits to Network Operators
Short Time to Market for New Services.

Applications and menus can be deployed over-the-air to subscribers SIM cards.



Easy to Use Graphical User Interface.

No need to learn a programming language to create basic SIM applications.



Enhanced Revenue Generation.

Subscribers are more likely to use services that are pre-configured on the SIM.



No SIM Card Lock-in.

Interoperability with SIM cards from various vendors is assured through the Vendor Qualification Program.



Fewer SIM Replacements Over Time.

Subscribers get access to new services with their existing SIM.



Gain Statistics on Menu Usage

. Statistics are available on the usage of any menu item.

Benefits to Subscribers
New Services are easily accessible

from a SIM menu.



Control over their menu.

Subscribers can delete services they are not interested in.



Handset Independent.

Services are deployed OTA to the SIM, and can be used on any handset in the market.