TerraBook
Logos Solvo's TerraBook product is an innovative phone book service that enables the Mobile Network Operator's subscribers to create and manage lists of contacts in a database kept by the MNO. The TerraBook product is a solution to the limitations of the traditional SIM based phonebook and subscribers can now save and access an unlimited number of contacts from their mobile phones.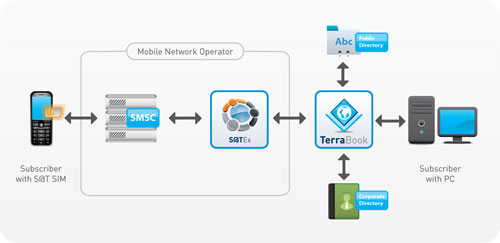 Overview
TerraBook allows subscribers to create a number of phonebooks on the TerraBook application server, and enables subscribers to access their phonebooks via their S@T enabled SIM card. Subscribers can create their own personal phonebooks, or create shared phonebooks for access by other subscribers.
Key Features
TerraBook can be accessed from the SIM application or from the Internet through a web browser.


Extended contact data such as fixed and mobile phone numbers and email addresses can be managed per contact.


Make a call or send an email to a contact directly from the TerraBook application on the SIM.


Phonebooks can be shared with other subscribers, giving them access to the contacts in the phonebook.


Host public phone directories for access by subscribers from their SIM based TerraBook application.


Setup mailing lists for sending the same SMS or email to several contacts.


Exchange contact information with other subscribers through the TerraBook SIM application.


Web based administration interface.

Benefits to Subscribers
Store and manage an unlimited number of contacts.


More flexibility as several phone numbers and email addresses can be stored per contact.


Powerful communication capabilities such as email from an entry-level handset.


A mechanism to share contacts with family, friends and colleagues.


Contacts will not be lost if the handset or SIM are lost or damaged.